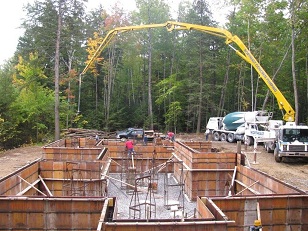 Residential ICF home in Harrison is a new take on traditional concrete walls. The foundation and concrete walls were laid by Henry's Concrete Construction. They span up 2 stories to create a solid and sound proof barrier. This is a structuraly superior design and will stand for decades to come.

Henry's Concrete uses NUDURA Insulated Concrete Form technology as an alternative to stick frame building methods. It saves time, money, and is energy efficient.




Henry's Concrete Construction, located near Long Lake in beautiful Harrison, Maine, has been meeting concrete needs of the Lakes Region for over 30 years. From RT 117, head onto Norway Rd until you see our sign.






Snow Removal






Consulting



We maintain a professional staff at Henry's Concrete Construction and have been growing to meet the needs of our customers. Although we mostly pour foundations for unbuilt residences, we also have experience in raising houses for adding basements, sidewalks, and floors.

To view a complete listing of our services, visit the Residential Projects, Consulting, and Snow Removal links. If you are interested in more information or would like to request an estimate for services, please feel free to Contact Us by email or phone.

If you would like more information about Henry's Concrete Construction, Harrison, or the Lakes Region, visit the Company Profile or Lakes Region Living sections of this site.